Concrete. Where you need it.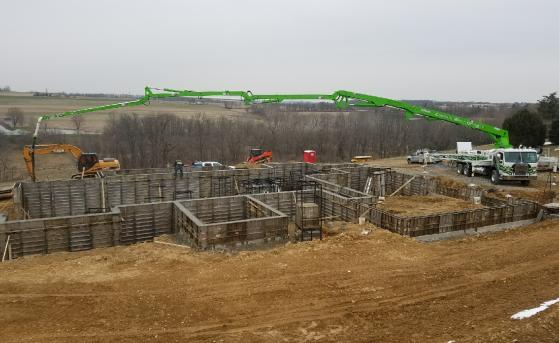 Do you have a project that's difficult to complete? Do you have limited access to some parts of your construction site?
Nothing ruins schedules and budgets like hard to reach areas. Worrying and fussing over how you're going to get that concrete floor poured is just not worth the headache. Let us help you!
Concrete Walls Unlimited provides long-reach concrete pumping services. Our concrete pump service allows for over 100 ft. of reach.
Concrete pumps allow for easy pouring of sidewalks, floors, foundations and more in hard to reach situations. Because you won't have mixer trucks to move around the edge of the footing, concrete can be placed at a faster rate. With the elimination of driving around, you also avoid spreading mud all over the roads, and you won't have to worry about getting stuck either. Our newest concrete pumping truck from Alliance features a 38 meter, five section boom to get concrete where you need it.
Now you're next project can be completed on time and on budget with professional, quality service from Concrete Walls Unlimited.